Creating impact beyond the bottom line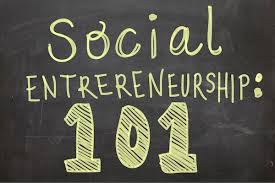 A growing number of entrepreneurs are starting ventures designed to create a positive social impact. They are looking for authentic ways for their businesses to become the best for the world, not just the best in the world. These are for-profit enterprises that solve some of the world's most challenging problems, often with a relatively simple solution. It's a movement that's worth watching in your own community and across the world.
In British Columbia's Sea to Sky corridor, the Social Venture Challenge is an opportunity for social entrepreneurs to encourage, support and grow new social ventures in the region. After submitting a one-page application, shortlisted entrepreneurs learned how to flush out business ideas, were mentored from experts in their field and were coached how to pitch their venture idea.
Around the world, businesses are not only looking for bottom line financial success, but bigger picture impact. A study at the recent New Metrics Conference hosted by Sustainable Brands revealed six types of capital that can drive the success (or failure) of a business: Financial, Physical, Social, Intellectual, Human and Natural. If any one of these areas is weak (e.g. high turnover at a company that does not invest in its human capital), the whole enterprise can suffer.
Big banks, investors and global brands are also paying attention to the social venture movement. Speaking at the World Economic Forum this year, Paul Polman, CEO of Unilever, stated that
"Social entrepreneurs are role models, not only for young entrepreneurs, but, more importantly, for businesses like us. We can't address in our business model many important societal issues if we don't link up firmly with the creativity and passion and purpose-driven models of social entrepreneurs."
More and more, we're seeing that a company's higher purpose is what gets people fired up to become loyal advocates for certain brands. This is evident not only for core customers, but a growing workforce that is looking for more than a paycheque. Research conducted by the Cone Millennial Cause group showed that 80% of young workers want to work for a company that cares about how it impacts and contributes to society. They also are willing to take less compensation in exchange for greater meaning in their work.
[bctt tweet="young workers willing to take less compensation in exchange for greater meaning in their work"]
But passion and purpose are just some of the many elements that make up a successful venture. As a judge at a recent 'Angel Den' for the Social Venture Challenge in Whistler, I was able to help the cohort test their plan and perfect their pitch. Their enthusiasm makes it easy to love these ideas, but the business fundamentals surrounding the value proposition, revenue model and marketing approach are all essential to build a sound foundation and platform for a successful launch.
Their big event, the final pitch in the challenge, is coming up September 30 in Whistler. It's being organized as a fun, fast-paced Dragons' Den style event where participants in The Social Venture Challenge will pitch their burgeoning business ideas. Judges will be awarding the winning social venture with $3,000 start up cash, courtesy of Squamish Savings. Learn more at www.whistlercentre.ca
The entrepreneur's journey is never an easy one. Embedding a social or environmental problem in the business model is even more challenging. Being able to tell the story of that journey and how the business can make a difference in the world is often the best way to market the brand and build your tribe. Need some help packaging that story to share with the world? Contact us to get started. We love working with purpose-driven brands that are ready to build a movement.
Related stories: