When I started a new contract earlier this year, little did we know how much this work would support my client through the COVID-19 crisis. We knew we had some gaps to fill in terms of how the organization communicated its brand story and how this would show up across our community.  Now that we've had a day to catch our breath after the last few weeks, I wanted to share some key insights and lessons learned.
My client is a 30-year old social enterprise that is busy doing meaningful work that supports the social wellness of community members from before they are born to their golden years.  It offers a range of programs and services that deal with issues that include food insecurity, social isolation, emotional health, housing, and advocacy.  The Whistler Community Services Society (WCSS) runs two busy thrift stores in town and offers over 20 social programs and services. It was founded with the purpose of funding social programs and services in Whistler and today, it also diverts about a tonne of materials per day from landfill.
Capturing the Heart of the Brand
Like many non-profits, WCSS has been so busy doing the vital work it does for our community, that it lacked a solid foundation and needed integrated platforms for communications, advocacy and fundraising. The first priority was to pull together their leaders and managers to share their ideas on how we could capture their history, frame their story, share their mission and guide communications going forward.
The front line was engaged to refine and build on the draft ideas, sharing their insights on how customers and clients perceive the brand and how the community views the organization. A survey was shared with staff and volunteers to capture their feedback on a website refresh.
Stepping Stones for a Communications Strategy
The steps that followed were always part of the plan, but they immediately became important resources when faced with the COVID-19 crisis:
A branding and writing guide was created to outline the visual and written guidelines on how to share content and tell the story of the social enterprise.
The story of the organization and key messages about its programs and services were refined.
Templates were developed to make it easier to respond to media requests and to share news about the enterprise.
Content strategies and calls to action were outlined for social media engagement.
A new donation platform and tool for client relationship management (CRM) was integrated with its website (launched a day before a major fundraiser!).
Recommended procedures were introduced to manage crisis communications.
While we navigate the next phase of the COVID-19 crisis, we can build on this new foundation and refine as we go.  More than anything, we can learn to launch even if it's not perfect! Just having the draft ideas ready was so important for the team to be responsive and effective communicators.
Insights and lessons learned
Internal communications with staff and stakeholders was initially outside of the scope of our work. In hindsight, this became a hugely important part of engagement during a crisis.
We could not have managed without a solid donor engagement and management tool. From the first moment they asked for donations, the volume of responses and the generosity that followed was unprecedented.  The donor database effectively grew from 0 to 500 in just a few weeks.
It was essential to lean on our network. To respond quickly and effectively, we asked for urgent support from our web and graphic designer, local media, other nonprofits, fundraising experts, social media managers, partners in the resort (local government, business, chamber of commerce) and the organization's board of directors.
Regular check-ins became a priority. Communications does not happen in a bubble. Input from the front-line, clients and community partners has been invaluable. Being nimble, able to change course or build on ideas that have traction are key insights from the last few weeks.
Does your organization have a branding and writing foundation you can count on when you need it most? Are you feeling equipped and prepared to smoothly manage communications on a day-to-day basis, and in times of crisis?
Let's talk and see what can support your communications needs. Contact me today.
---
Help your community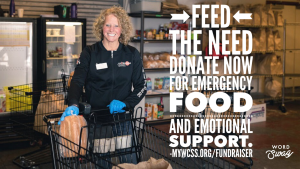 Want to make a difference in Whistler during the COVID-19 crisis? If you can, please DONATE to WCSS today.  Or make a donation to  your local food bank at Food Banks Canada.
Save your spring cleaning items for the Whistler ReUseIt or ReBuildIt Centres when they reopen. The thrift stores in your community are counting on it!