Root Ventures NURTUREs entrepreneurs WITH FOOD OR ART-FOCUSED business CONCEPTs
At a kick off event last month, aspiring entrepreneurs crowded into the local coffee shop for a night of inspiration and networking with community members.  What brought them out for the evening was the prospect of putting their ideas into action. The Sea to Sky corridor has always been a draw for people who like to do things differently and make a living by their own set of rules so they can maximize their time in this beautiful place.  Based on the strong turn out, it is clear that there are plenty of good ideas buried in the fertile soils of the Pemberton Valley, and the time is ripe to get them off the ground.
In Canada, the start-up community has become a fast-growing movement from coast to coast. Incubators, design labs, catalyst programs and more have cultivated innovative and viable business ideas with the support from a network of mentors and fellow entrepreneurs.
The Whistler Centre for Sustainability is the champion for a unique program called Root Ventures that supports food and art-based start-up enterprises in the Pemberton Valley. In addition to having a focus on either food or art, the venture should generate some community benefit – whether it be for our environment or a social cause.  As a Certified BCorp, I'm thrilled to work with purpose-driven entrepreneurs and I'll be teaching two learning sessions for the course.
Inspirational examples
At the kick-off event, the Whistler Centre hosted two successful entrepreneurs Dion Whyte and Jaye-Jay Berggen to share stories on how their businesses got off the ground and into a thriving and growing venture.
Persephone's 11-acre farm-based brewery prides itself on producing the highest quality beer. It also grow hops, food and community at its farm just off the ferry terminal in Gibsons, BC. The company is a BCorp, a certification earned largely due to Persephone's environmental initiatives and community partnerships. In addition to making really tasty craft beer, Persephone converts spent grain into compost, reuses waste water for irrigation, partners with locals growers and chefs to provide a hyper-local culinary experience and hosts numerous community fundraisers and events that brings its community together with visitors from afar.
Sea to Sky Soils supports local food production through cradle-to-cradle composting and closing the recycling loop. Its services help to remove organics from the landfill and this waste becomes nutrient-rich compost for area farms and landscaping projects.  Its founders have established many positive, long lasting relationships within the local First Nations communities who operate a highly efficient compost facility near Rutherford Creek just north of Pemberton. Its innovative system requires only a small infrastructure and is easily duplicated, so many other small communities across BC are consulting with Sea to Sky Soils to set up similar operations that divert waste from landfill.
Root Ventures Program Details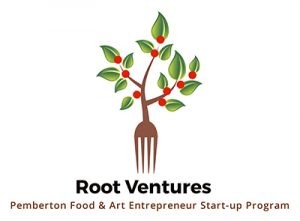 Over the three-month program,  Root Ventures participants  will get assistance shaping their ideas into a business model canvas which maps out key elements for a viable enterprise. They will also receive one-on-one coaching with mentors and support to build capacity for their venture.
The program is open to entrepreneurs based in the Pemberton Valley.
The applicants must also be:
Solo entrepreneurs, non-profit organizations, cooperatives or small businesses
Aiming to create a community benefit through the enterprise
In the start-up phase of developing their business idea or concept
Committed to participating in the whole program starting in January through to March 2017
To apply for the program, eligible applicants need to complete an application and submit their idea to the Whistler Centre for Sustainability by January 8, 2017.